Flexible Delineator Post is installed to support road surface signs where the danger of traffic accidents is high and special attention from drivers is required. The Delineator Post spatially divide traffic flow in the forward and reverse directions, and catch drivers` eyes to warn of dangerous areas.

Traffic Cones

Check out our wide selection of Traffic Cones. Our Traffic Cones are expertly crafted using the highest quality materials and are backed by a quality guarantee. With their reinforced handle design, the grabber traffic and safety cones can support the weight of stacked cones and bases and prevent them from sticking together when stacked. We offer traffic cones in all shapes, sizes and colors to meet your needs. You can even have the traffic cones custom stenciled with your own logo or imprint.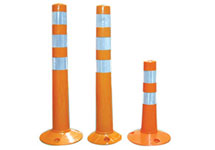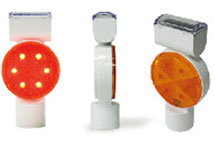 Flexible Delineator Post LTS/DP/01 Series
Size: Ø250 x Ø80 x 450mm
Size: Ø200 x Ø80 x 750mm
Size: Ø250 x Ø80 x 750mm
Color: Orange and Green
Material : Soft Plastic
Assembly Flexible Delineator LTS/DP/02 Series
Size: Ø250 x Ø80 x 750mm
Material : Soft Plastic

Sequential Blinking Delineator LTS/DP/03 Series
Size: Ø100 x 43 x 214(mm)
Material : Soft Plastic body: ABS / Reflector: PC
Wireless communication is 200 meter between delineators.
Antenna is inside Delineators.
Controlling sequential blinking time.
Automatically sequential blinking depends on ambient light.
Sequential Blinking Delineator LTS/DP/04 Series
Size: 100 Ø x 180mm
Material : Plastic

High Flexible Performence
Against the Crack
Supply low prices
Easy to Install & Remove
Solar Flexible Delineator Post LTS/DP/06 Series
Size: 200 Ø x 80 Ø x H750mm
Size: 200 Ø x 80 Ø x H450mm
Material : Soft Plastic

Special 'Micro Glass Bead'
All Side Reflective Delineator Post LTS/DP/04 Series
Size: 100 Ø x 180mm
Material : Plastic

High Flexible Performence
Against the Crack
Supply low prices
Easy to Install & Remove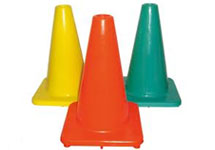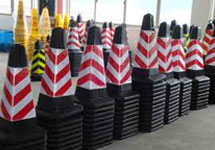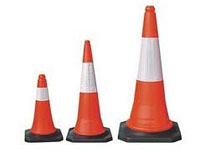 PVC Traffic Cones LTS/TC/04 Series
Shell materials:PVC
Reflect size: 100mm
Height: 30cm
Color: Orange/Red /Green
Base Size: 210*210mm
weihgt: 0.6KGS
sunproof, waterproof, heat-resistant, cold-resistant, non-rimous
Square Traffic Cone LTS/TC/02 Series
Shell materials:Rubber
Base: 360*360mm
Wheight: 75cm
temperature:: -30℃~70℃

Rubber Traffic Cone LTS/TC/03 Series
Height: 500/700cm
Weight: 2.0/3.0kg
Base size: 250 x 250/350 x 350mm
Material: synthetic rubber and virgin rubber
Reflective: three beading reflective bands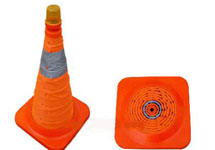 Folding traffic cone LTS/TC/04 Series
Material: water-resistant cloth and ABS
Reflective strap width: 3cm each two strap
Base size: 240 x 240 x 25mm ,320 x 320 x 40mm,320 x 320 x 50mm
Height: 450mm ,550mm ,700mm
Weight: 800g ,1kg ,2.2kg
Inside of cone with two flashing lamp